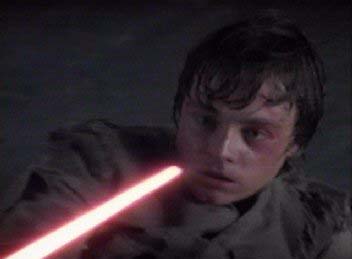 Hey, Dad...don't point that thing at me! How about reading me a bedtime story instead? There are stories just below. You're even nice in some of them.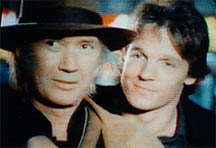 Look, Pop! They can read about us and our Star Wars buddies.
Hmm, that reminds me...did I ever tell you what I said to the DarkWarrior?
A Matter of Life and Death by MJ Mink Anakin learns "a certain point of view" from Obi-Wan.
A New Life by MJ Mink Luke joins Vader.
A Single Word by MJ Mink Luke rescues Vader from the Death Star, but can he live with the consequences?
The Adventures of L. Anakin Skywalker by MJ Mink Sort of stream-of-consciousness AU of the OT.
Almost by ZP Florian Anakin's thoughts about his terrible wounds after his confrontation with Kenobi.
Amalgamation by Louise Turner and Catriona Campbell Boyle
Anakin's Year by MJ Mink Anakin becomes a Jedi and Turns. (written pre-Episodes I-II-III)
The Art of Jedi by MJ Mink Humor: The Alliance needs cash, and Luke comes up with a sure-fire way to get it: an infomercial.
The Art of Jedi:Special Edition by MJ Mink Humor:The Special Edition! Changes! Additions! Costs lots more!
At What Price by Catriona Campbell Boyle The lives of Luke and Leia depend on the renegade son of an Imperial General.
Attachmentsby Catriona Campbell Boyle Anakin's last visit to the Lars far.
Bad Moon Risingby MJ Mink Emperor Vader and his reluctant heir Luke.
Best Friends by MJ Mink A boyhood friend from Tatooine arrives, and Luke learns Jedi traditions.
The Blaster by MJ Mink Luke's first blaster brings tragedy.
Breakfast with the Twins by MJ Mink Humor: How hard could it be to look after the twins, Han?
Consequences by MJ Mink After their battle on Bespin, Luke and Vader meet again in a neutral, elegant setting...that Luke finds every bit as unsettling as their confrontation in Cloud City.

Crossing Twilight by MJ Mink Luke has been raised by Sidious to avenge the death of his father, Darth Vader. After Sidious dies, Luke sets out to find his father's murderer - Anakin Skywalker.
Don't Look Back by MJ Mink Vader meets his 6-year-old son in a unique way - they switch bodies.
Exile by Cara J. Loup When the Alliance discovers Luke's parentage, they exile him.
Facsimile by MJ Mink Story challenge: Someone is masquerading as Anakin Skywalker, and Luke and Vader both confront him.
Falling by MJ Mink After Luke is captured on Bespin, Vader begins his son's transformation into a Dark Jedi, while Luke is haunted by deeply buried memories.
Fatal Flaw by MJ Mink RotJ missing scene; Obi-Wan instructs Luke about his upcoming confrontation with Vader.
Favorite Son by MJ Mink Young prince Luke Vader grows up in the Imperial Palace
Helmet: The Early Years by MJ Mink The first meeting between Luke and his faithful helmet as they prepare to attack the Death Star.
His Young Apprentice by ZP Florian Anakin defends his admiration of Palpatine to Obi-Wan.
Home by Catriona Campbell Boyle Post-ROTJ Luke goes back to the farm.
Hot by Catriona Campbell Boyle The lovely redhead wants more than just a kiss from Luke.
How Did My Father Die? by MJ Mink Luke asks.
Inner Conflict by Catriona Campbell Boyle
Introspection by Catriona Campbell Boyle Vader's thoughts on Luke after their ROTJ meeting on Endor.
Jedi Upstart is Sith Lord's Beneficiary! by MJ Mink Scandal!
The Lamb by MJ Mink Vader tries a different tactic on Bespin.
The Legend of Tatooine Hallooine by MJ Mink Luke learns not to fear Vader.
The Lie by MJ Mink Oh, what a tangled web Luke wove! He always knew Vader was his dad; how can he confess to his friends?
Looking for Predators by MJ Mink Young Luke, lost in the desert,is helped by a vision.
Lord of the Day by MJ Mink Luke inherits his father's castle, his world, and some mysterious characters.
Loyalties by MJ Mink After Bespin, a delerious Luke tries to remain loyal to both the Alliance and his father.
Luki, Prince of the Forest by MJ Mink Bambi Luke
Marooned by MJ Mink Luke is trapped on a hostile planet with Vader.
Milk and Cookies by ZP Florian Palpatine's emotional seduction of Anakin.
Missing by Catriona Campbell Boyle Luke is MIA. (Part 2 added 10/10/04)
My Bitten Heart by Mina

An Imperial witnesses the tragedy play out between Darth Vader and Luke Skywalker.

Necessary Lies by MJ Mink Luke is manipulated into joining Vader.
Original Sin by MJ Mink Luke has difficulties relating to a reformed Anakin.
Password by MJ Mink Humor; Luke's attraction to computers
The P.C. Empire Strikes Back by MJ Mink Humor: Vader's behavior must be corrected.
Penumbra, Part 1 by Catriona Campbell Boyle An AU on ROTJ after Luke is frozen in carbonite.
Penumbra, Part 2 by Catriona Campbell Boyle
Penumbra, Part 3 by Catriona Campbell Boyle
Penumbra, Part 4 by Catriona Campbell Boyle
Penumbra, Part 5 by Catriona Campbell Boyle
Penumbra, Part 6 by Catriona Campbell Boyle
Penumbra, Part 7 by Catriona Campbell Boyle
Penumbra, Part 8 by Catriona Campbell Boyle
Penumbra, Part 9 by Catriona Campbell Boyle
Penumbra, Part 10 (Epilogue) by Catriona Campbell Boyle
The Planting by MJ Mink Little Luke performs a Tatooine ritual.
Racing the Clouds by Catriona Campbell Boyle Luke, Biggs and Tank journey to a Imperial Academy Recruitment day.
Remnant by Catriona Campbell Boyle While taking a break, Luke wakens a remnant from the Empire.
Resurrection by TJ Perkins Darth Maul's life after death and how it all came to pass.
The House on Vader Hill by MJ Mink Han takes Luke and Leia to inspect Luke's inheritance Vader's mysterious mansion.
The Secret by Cara J. Loup Han wants to know Luke and Leia's secret.
Shadows of Blood by Kaz
Silent Night by MJ Mink Remembering Alderaan in a unlikely place.
Snowball by MJ Mink On Hoth, General Veers contemplates killing a young Rebel.
Someday by Catriona Campbell Boyle Luke vs a "bounty hunter".
Sparkle by MJ Mink Dead Obi-Wan learns how to appear.
Take Care of Yourself,Han by MJ Mink Han's promise to Obi-Wan.
Tatooine by MJ Mink Imperial soldier Han must execute a young prisoner.
The Terrorist by MJ Mink Vader uses deceit to trick Luke into surrendering in Cloud City. The Dark Lord entrusts his son to an Imperial interrogator, unaware that the man has an agenda of his own: revenge. (Warning: contains scenes of psychological and physical torture)
The Truth by MJ Mink As a child, Luke is told the truth about his father and it changes his life. When father and son finally meet, neither is what the other expected - COMPLETED!
Time by MJ Mink In battle, Luke meets the Dark Lord and must deal with his conscience and his future.
To Let Go and Die by MJ Mink Luke has second thoughts in Cloud City.
Untimely Arrival: A Clear Choice by Catriona Campbell Boyle Luke gets back to the farm just before the Imperials arrive and gets caught.
Untimely Arrival: The Best of Intentions by Catriona Campbell Boyle Luke gets back to the farm and gets his aunt and uncle away before the Imperials arrive.
Written in the Stars by MJ Mink Luke meets a mysterious child.
You're Who? by Catriona Campbell Boyle Leia's thoughts on Luke as they flee the Death Star.
Aftermath by MJ Mink After Episode/Challenge Peter and Caine have a bonding moment.
After the Fall by MJ Mink Peter and Caine's reactions to events in Episode/The Bardo.
All Is Calm by Liz Gregg
Broken Ties by Cathryn Mortenz-Teal ("Kate")
Day One by MJ Mink Peter gets through the first day after his Pop leaves (Episode/Redemption 1)
Dinner Time by MJ Mink Peter has 2 dinners: one with Caine, one with the Blaisdells.
Double Trouble by Liz Gregg
Dragon's Son by MJ Mink Peter and Pop after Episode/Dragon's Daughter.
Dragonswing by MJ Mink Caine and Peter reaction to the killings in Episode/Dragonswing.
Forever by Liz Gregg
Grasshoppers by MJ Mink A Peter/Pop bonding moment after Episode/The Lacquered Box.
Greater Than Good by Liz Gregg
Memorial Day by Liz Gregg
Memorial Day by Liz Gregg
Ties That Bind by Liz Gregg
An Apple a Day by Liz Gregg
Memories of a Promise by Liz Gregg
Missing by Cathryn Mortenz-Teal ("Kate")
Peter's Heart by MJ Mink Just before they are reunited in the series pilot Initiation, Peter and Caine are thinking about each other.
Peter's Place by MJ Mink Caine's first visit to his son's home.
Redemption, Again by MJ Mink Caine comes home (Episode/Redemption II)
Retribution by MJ Mink Caine confronts Paul about his raising of Peter. (Episode/Retribution)
Reunion by MJ Mink Peter and Caine think about each other (set during series pilot, Initiation).
Rite of Passage by MJ Mink
The Road to Avalon by Cathryn Mortenz-Teal ("Kate")
SEASONS (Series) Peter and his father struggle with anger and misunderstandings as each tries to find a way to fit into the other's life.
Autumn Moon by MJ Mink The Mid-Autumn Festival.
Ice Castles, Part One by MJ Mink A winter trip.
Ice Castles, Part Two by MJ Mink
Sand Dunes by MJ Mink A day at the beach.
Water's Edge by MJ Mink In San Francisco.
Shadows by MJ Mink Peter worries about Caine.
Shaolin by MJ Mink Peter's brand-new brands.
Snapdragon by MJ Mink A fire forces Pete to move in with Caine.
Soul Report by MJ Mink Peter's guardian angel files a progress report.
Speechless by Cathryn Mortenz-Teal ("Kate")
Steps by MJ Mink Caine finds Peter at Kira's funeral.
Still Life by MJ Mink Peter looks for Caine at Caroline's wedding reception.
Street Sceneby MJ Mink Caine is back after his 6-month absence, and Peter tracks down his father.
Table for Three by Liz Gregg
The Trick by MJ Mink Peter learns about Lo Si/Ping Hai.
Time Past by MJ Mink AU: Bon Bon Hai alters the past, then gives an unhappy Peter the chance to restore what he's lost ...or to be lost himself -- forever
Tribute by Liz Gregg
Walk with Me by MJ Mink What will Peter do when Caine is killed?
Who is Kwai Chang Caine by Liz Gregg
Wisdom Won From Pain by Liz Gregg